Welcome to Go2KarateSites.com, you have reached the Gallery Workshop, full of high-performance Martial Arts Websites. Many of these marketing websites have been the cause of student growth and in some cases the schools have had to expand to fit all the demand! Starting with the design, we have developed the not only a site that looks fantastic, but one that functions like a marketing website is supposed to and ticks all of the Search Engine Optimization (SEO) boxes that organic search demands. Take a look, if you like what you see give Go2KarateSites a call and see if we would be a great fit for your Martial Arts marketing strategy.
Mr. & Mrs. Sears
Our Taekwondo school has always depended on the web for advertising. For quite a while, we maintained the web page ourselves. We switched our webpage hosting over to Go2KarateSites and Go2KarateSites® a little over a year ago. They completely redesigned our webpage for us and have given us some great advice on search engine optimization. Our website is now the source for more than 50% of all new leads that contact the school, and our numbers went from 49 web leads in 2013 to 140 so far in 2015 and the year isn't over yet. -Mr. & Mrs. Sears
Chief Master Droege
"We've had over 80 people come in as a result of the Groupon campaign from Go2KarateSites and Go2KarateSites® so far. Many have converted to membership of various types. One thing we've found that works well is to have a special Groupon upgrade class. So far we've offered two classes and 6 showed up each time. We've enrolled leads 6 into 1 year programs. That's a 50% conversion rate! Facts: Enrolled 20 Students so far out of the 80 on 12 month memberships which is $60,000 annually. We have leveled-up 6 students to our Leadership Program for an additional $2,500 each = $15,000 for a total added revenue to our annual amount of $75,000! Thank you Go2KarateSites.com and Go2KarateSites®!" – Chief Master Droege
Mr. Jason Dendy
"Our experience with Go2KarateSites.com has been great! Our enrollment has gone up, and our internet visibility has increased. Months that would ordinarily be slow for our area have shown a significant increase in enrollment. We are really happy that we decided to go with Go2KarateSites. It has helped our business grow, and is certainly worth the investment.
In the past, we have shied away from spending money on marketing because it has never brought in enough to justify the expense. However, after hearing some of the success stories of Go2KarateSites from trusted associates, we decided to give it a try. Once the site got up and running, and we started following through with the suggestions of Go2KarateSites team of professionals, our enrollment jumped; we doubled the past month's enrollment and exceeded our previous year's enrollment for the same period. Then we knew that this program could work. We are glad to make the investment every month and now we tell our associates about how this marketing program has worked for us.
I feel our marketing program is one of the best out because of Go2KarateSites Team!" – Mr. Jason Dendy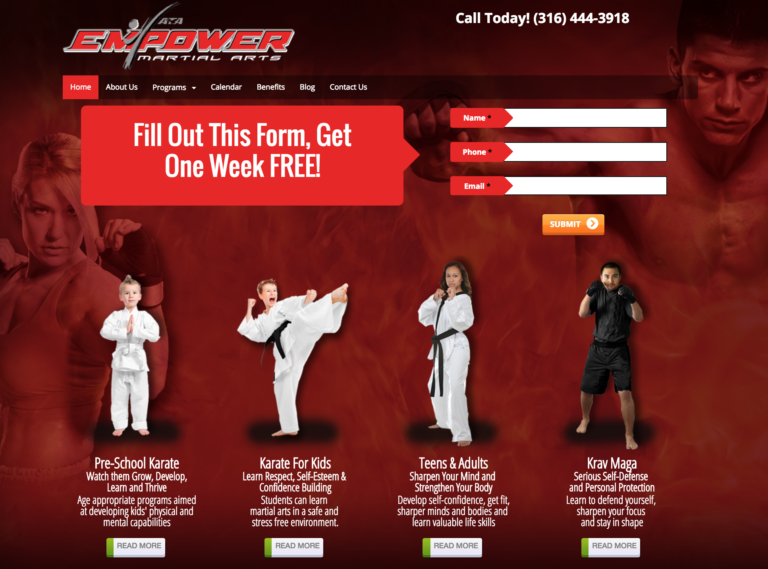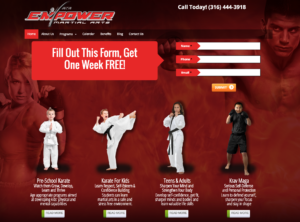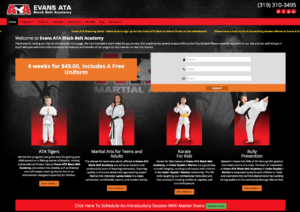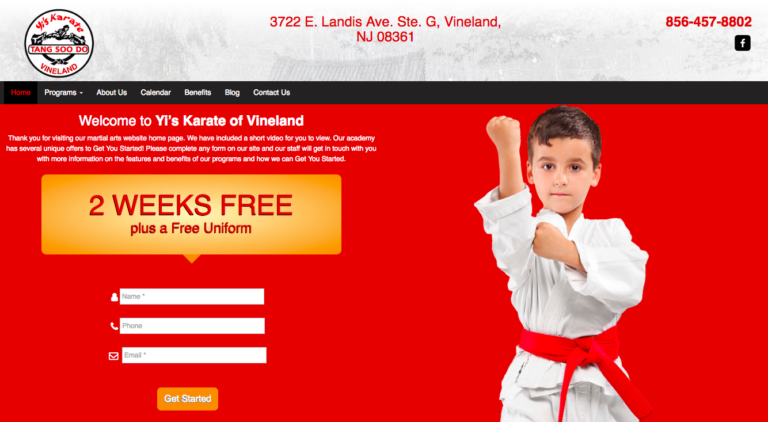 Mr. Al Herrera
"I always loved Martial Arts! Like many my age I grew up during the Bruce Lee and Chuck Norris era watching movies and aspiring to be a great martial artist. As I grew up though my life turned in a different direction away from Martial Arts and providing for my wife and children quickly became my priority. In 2004 I brought my youngest son into an ATA school to give him an opportunity to learn. He loved it!
In 2005 after attending numerous classes with my son he received his Black Belt. I decided to start classes as an adult and pursue my dream of being a great Martial Artist. During my journey I quickly learned that I enjoyed teaching kids and other adults Songahm Taekwondo. I enjoyed seeing their smiles upon achieving their goals. I earned my Black Belt in 2008 and I began to pursue my certification as an Instructor. In the summer of 2009 I received my certification as an Instructor for the ATA and set my goals to open my own school. In 2013 I opened Glenview ATA Black Belt Academy and continue to enjoy my dream of teaching martial arts and training hard to be a great martial artists.
Using Go2KarateSites Marketing Campaign is a new experience for me and thus far it has been a positive experience. Since the beginning of January 2013, I have had 7 students come in under the campaign. The potential sign ups right now is at 90%. I would definitely continue to use this Marketing campaign!" – Mr. Al Herrera
Senior Master David Kowkabany
"Go2KarateSites is easy to work with, and extremely professional. Their expertise in the field of online marketing is cutting edge, they stay abreast of the latest technology as well as the changes needed to stay up with the constant changes in search engine marketing and optimization. In a year, they took us from page 14 of the search engines, to page 1! Our website before working with Go2KarateSites brought in two or three leads per YEAR, and now we get weekly calls… this is in addition to our Groupon sales.
Sr. Master Thomas and his staff and the best, very hard-working, and true to their promises. In fact, they have actually provided additional services to us that we didn't expect, as they were rolling them out to all of their accounts as positive advancements came through with upgrades in their software. Working with Go2KarateSites allows us to focus on teaching instead of worrying about handing out cards and flyers." – Senior Master David Kowkabany
Sr. Master Mark & Master Barbara Sustaire
"We have had over 500 people come in as a result of the Groupon campaign with Go2KarateSites and Go2KarateSites®. This has generated traffic that we would have never been able to duplicate during our 19 years in business. The traffic this has generated in my two schools has been amazing. We have used many different advertising/marketing programs in the past and none of them have given us the results that this one has.
Experiences with bullies led me get involved with ATA at age 17. I was the band nerd, and I'd been picked on, I wanted to learn how to defend myself, and it changed my whole perspective. I have never looked back, and over the past 30 years, Taekwondo for us has developed into a family affair: my wife, Barbara, is also a Master and a 6th Degree Black Belt and my two children are also Black Belts. We have two schools in Allen and McKinney, Texas." – Sr. Master Mark & Master Barbara Sustaire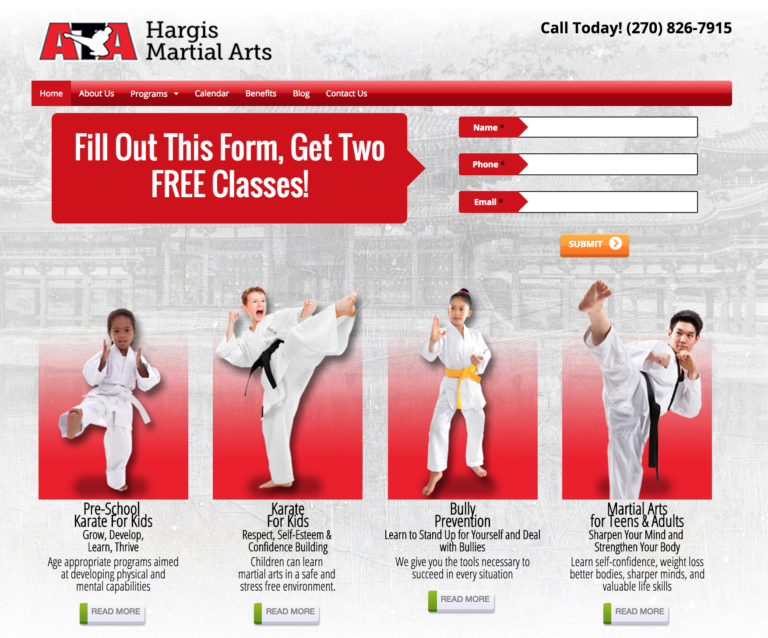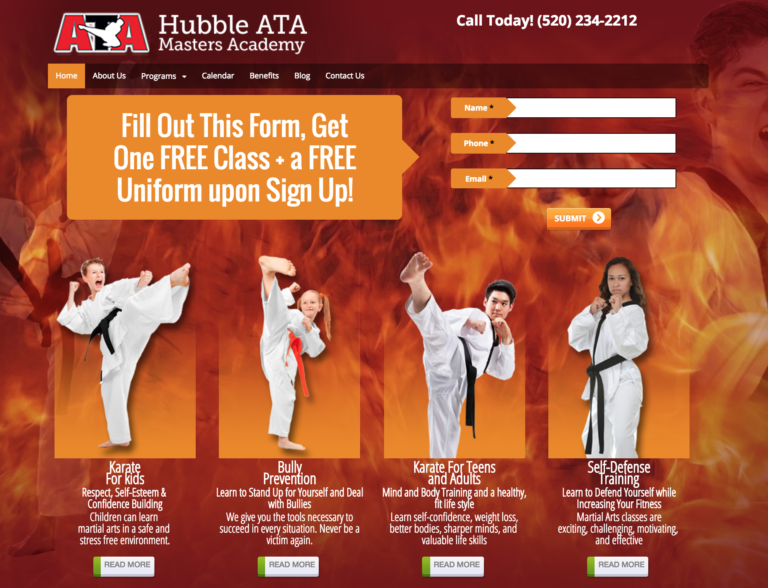 Chief Master Ozuna
"8th Degree Black belt in Songahm Taekwondo (ATA), with 6 schools in Florida (Martial Arts System- MAS). At MAS we offer the best martial classes through strong physical training, self-defense techniques, sparring of all types according to distance including weapon training. We have created our Tiger program that starts with children aged 2 years old to 7 years old when they move to the regular Junior program. Structure, organization, and great classes are our main strength. I oversee over 300 schools in Latin America, consult with 500 instructors, give seminar in 6 Countries every year and one big Panam Congress and Championship.
We are starting our exposure with Go2KarateSites.com our experience with Go2KarateSites has been very positive, I have my website with them and did a full year of advertising. Very helpful and very professional people!" – Chief Master Ozuna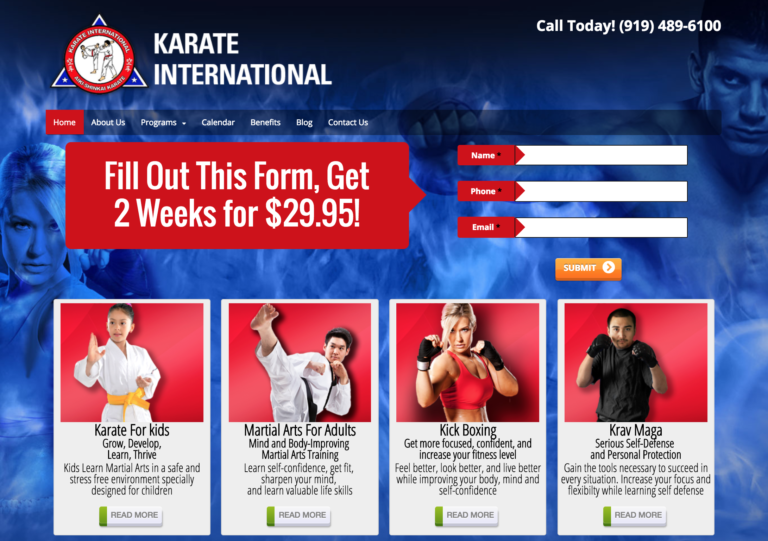 Mr. Corey Gunsel
"Changing Lives Martial Arts of the Princess Anne are would like to thank Go2KarateSites.com for sending community members to our martial arts facility in Virginia Beach, Virginia. Our Karate for kids classes are so exciting and we have many new students enrolling into both our basic course and instructor programs. Wow! What a difference we have seen with the energy in the classes and the positive results we can see within the community from all of the students enrolling here at our Changing Lives Martial Arts at Princess Anne located in Virginia Beach. We have many new students with our adult martial arts program, karate for kids program and Krav Maga program and we are excited about all that we can do for our martial arts students on their path at CLMA." – Mr. Corey Gunsel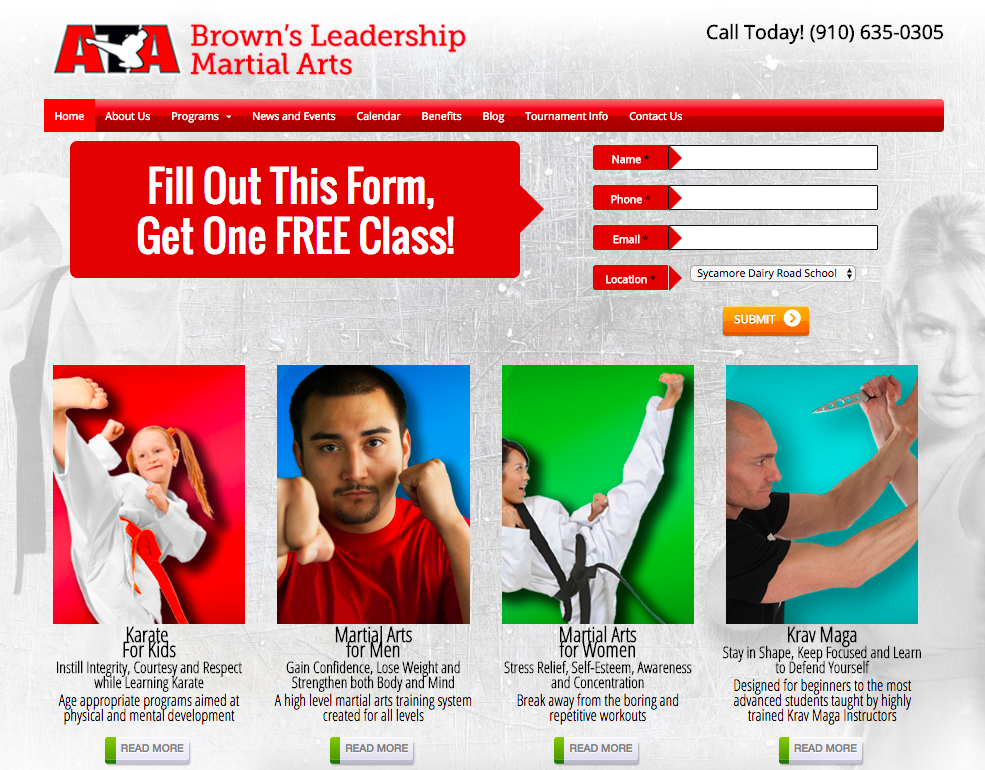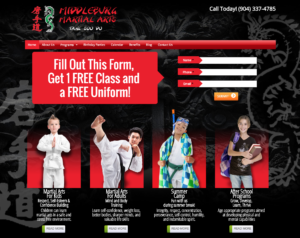 Ms. Allyce McKenna
"Being new to the Changing Lives Martial Arts family, it is easy to see how Go2KarateSites.com has a positive impact on our business. It is exciting to see all of the new members that enroll with us, from Tiny Tigers to Krav Maga. Support with the marketing of Changing Lives Martial Arts helps us to reach those people whose lives we can positively impact! Not only are all of our programs at CLMA seeing a great boost of energy, but we are also seeing a positive financial impact. Because of that, we are able to offer our members a top quality class! Thanks so much, Go2KarateSites, for helping us on our journey here at Changing Lives Martial Arts!" – Ms. Allyce McKenna
Mr. Jim Peacock
I am very much looking forward to taking my school to the next level with the help from Go2KarateSites. When millionaire maker Stephen Oliver refers you to a company, it's hard not to take that advice. I feel my future will be bright!
-Mr. Jim Peacock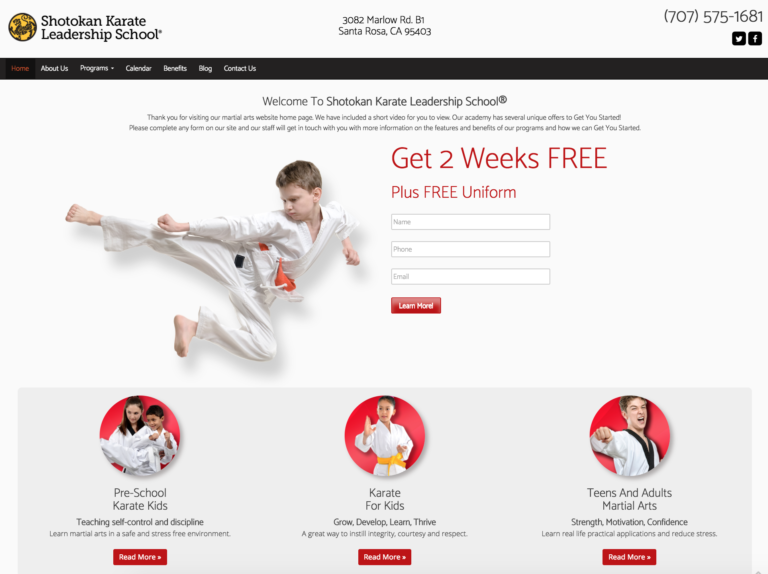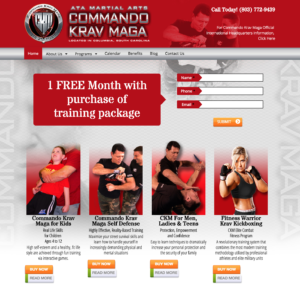 Mr. & Mrs. Von Phul
My husband and I started taking Taekwondo classes in 1989 when a co-worker of his invited to class as a guest. That started a long, strange and fascinating journey from Texas to Oregon! Taekwondo went from being an activity for us to share, to becoming a hobby we refused to quit, to a part-time and then a full-time profession. In 1989 we never foresaw ourselves as Black Belts or School Owners: looking back it seems perfectly natural!
We were inspired to start our first Club in 1993 by our Instructor Master Barry Lyon. At the time we were driving over and hour to class once a month to spend 2-3 hours on a Friday night to train and stay active. His recommendation was: TEACH. And we did! That Club became a School and is now in the hands of one of our original students!
Once again Master Lyon inspired us to move up to Salem from the small town we lived in to help him operate his school and open others. That is the Strange and Fascinating part of the Journey…..With the mentoring of Master Lyon and Fred Mertens, Master Childs, Chief Master Clark and A LOT of experience we evolved from students into full time instructors. It is a joy to be able to make this a profession.
It has been blessing to meet the people of Go2KarateSites 2U. This is an excellent business that is responsive and professional. It is great to work with people who truly KNOW and UNDERSTAND Traditional Martial Arts training and know how to present it to the public. -Mr. & Mrs. Von Phul
Mr. Thomas Wright
"I am a 4th Degree Black Belt in Songahm Taekwondo. My wife and I opened our school almost 4 years ago with the dream of running a traditional, disciplined dojong. Since joining forces with Go2KarateSites our student growth has exploded! This helps me run an exciting curriculum as more and more students arrive to learn more about martial arts. Go2KarateSites has been the tool I have been looking for. We offer Krav Maga, through Krav Maga Desoto, Songahm Taekwondo, and Fitness Kickboxing classes. On Sunday's we have an open mat welcoming Jiujitsu, MMA, Judo, Karate, and other disciplines so we can share training, philosophies, and ideas.
Since joining with Go2KarateSites and Go2KarateSites.com our growth is exploding! The Website, designed by Go2KarateSites, is driving in leads on a regular basis. Add that to the work of Go2KarateSites and almost every night we have new visitors coming in for classes. I am looking forward to continued growth through our standards and the wonderful help of Go2KarateSites and Go2KarateSites." – Mr. Thomas Wright